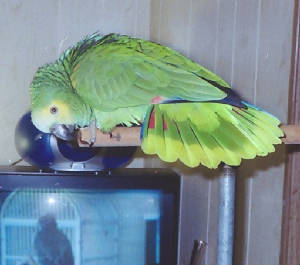 This is a personal web site, not a business. If you find any of the information here useful, please consider a donation. Help keep Ziggy the most spoiled parrot in North America! Thanks.

All content on this site, including pictures, is copyrighted,

©

2006 through 2016, by George A. Butel. All rights are reserved; text may be quoted freely with attribution, but critical commentary must give me the opportunity to reply.
Visit our hints for cancer patients Google page
, which tells you some of the things I learned during cancer treatment, including a few things that "they" forget to tell you, such as having to be a little bit "anal" about trying to prevent opportunistic infections. I never had any during my treatment, so I think my obsession paid off.
LEGAL STUFF
This site has tips and observations about dealing with parrots, and a few of my own views about human and parrot health concerns. I have a degree in biochemistry, so I am qualified to make
some
statements about foods, medicines and supplements, but
I am neither a veterinarian nor a physician, and I do not practice human or veterinary medicine
. You should certainly double-check any ideas you might get from me, or anything that you might
construe
as advice, by consulting with an appropriate legally licensed professional. All content on this site ©2006 through 2014 by George A. Butel. If you see any typos or any information that you feel is inaccurate or ambiguous, please contact me by clicking
here
.
I use some free Google stuff, including their search, on this site, and they now require that their privacy policy be listed: Google, as a third party vendor, uses cookies to serve ads on your site. Google's use of the DART cookie enables it to serve ads to your users based on their visit to your sites and other sites on the Internet. Users may opt out of the use of the DART cookie by visiting the Google ad and content network privacy policy.