OLD-FASHIONED "HEALTH' FOOD: STRING BEANS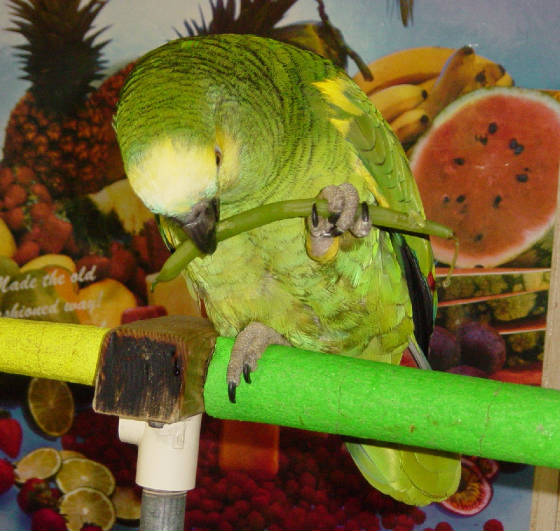 HE GETS MAD IF THE BEANS INSIDE ARE NOT BIG ENOUGH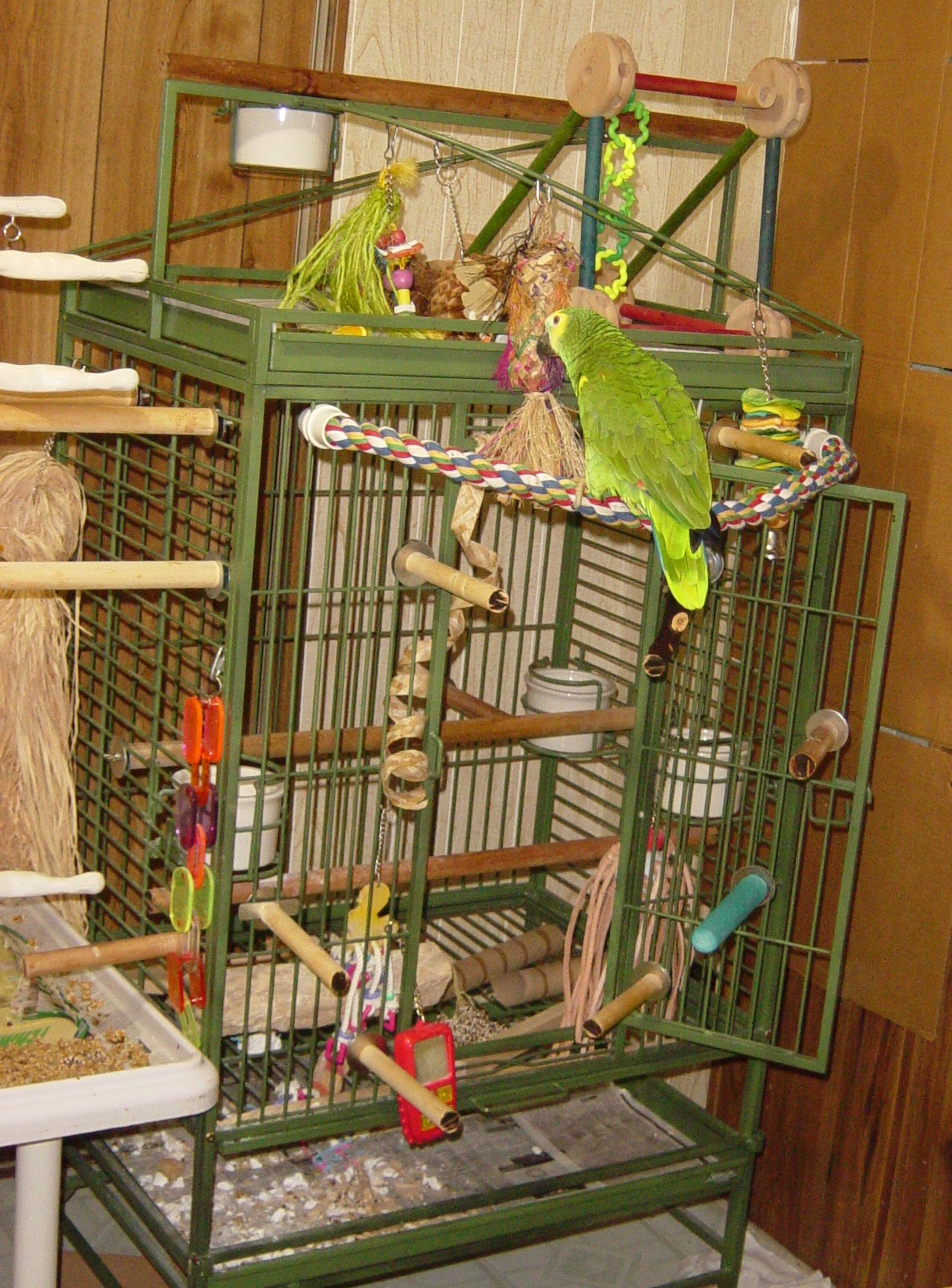 ZIGGY'S CORNER

WATCHING POLLYVISION PARROT DVD
The parrot gym has 2 cups, one for produce (the "wet" cup) and a "dry" cup for his pellets, nuts, etc. When I clean the dry cup, I put the material on the base of the gym and let him have a second go at it. Only after he's had two shots at it does it go to the outside birds.

A design flaw in the parrot gym is the proximity of the cups to each other. Ziggy will inevitably grab something out of the wet cup and eat it over the dry one and vice versa. The problem is that if you allow moisture in the dry stuff, you are also inviting mold, so it is imperative to monitor the cups multiple times daily.

I cover the bottom of his gym with numerous layers of paper, which I remove as necessary. I keep old phone books strategically placed on top of the newspaper layers. This serves two purposes: first, it keeps the newspapers off the floor in case he gets in a shredding mood (one of the greatest joys in his life is not just shredding stuff, but watching the pieces land on the floor), and, second, when strategically positioned, the phone book will catch the poop, which can be easily disposed of by removing only a couple of pages.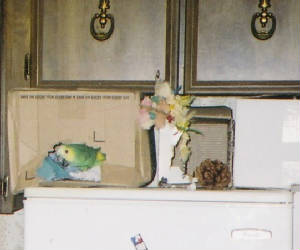 ATOP THE FRIDGE, WHERE THE FOOD IS....HOME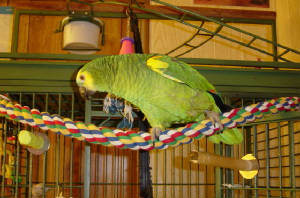 ZIGGY SURVEYS HIS DOMAIN
This picture of him on top of the refrigerator was taken shortly after I had gotten him from my mother. I had just read Joanna Burger's The Parrot Who Owns Me, and I was impressed by how her bird was so possessive that he protected the refrigerator against the "intrusions" of her husband, so I put some boxes on top of our fridge. Mrs. Burger's bird was pair-bonded with her, as Ziggy was with me (although I did not realize it at the time.) I found out later that I'm not "supposed" to provide potential nesting sites. He loves his nests, though, and I don't think it would be wise to remove them at this point. I'd like to get him a mate, but I don't think I could just pick one out for him. Parrots have personalities just like us, and I certainly wouldn't allow anyone to pick out a mate for me. I'd like to have some miniature Ziggys to rear!
---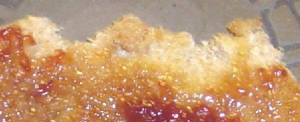 SOMEONE GOT THE GOODY OFF THE TOAST!
ZIGGY CHEATS!
Here's pictorial proof of Ziggy cheating with toast: by hook or crook, he will get just the goody. One time he was on top of his travel cage, which is in the kitchen and rather high, and I offered him a bite of a Whataburger; he stole the whole patty out of the burger--and wouldn't let me have it back.

With toast, you have to toast it just right. Untoasted, the cells in the bread will squish together and all the goody will end up on top, and he'll just lick it off. If it gets toasted too much, he'll squeegee the goody out of the toast. It has to be just right to get him to eat the toast, but, as you can see, he still skims the goody off if he can. I try to use bread with at least a reasonable amount of whole grains, with just a touch of a healthy oil--Smart Balance Omega Plus and/or a wheat germ/flax oil mixture and/or some sesame tahini spread, along with my own special fruit compote; see my recipe elsewhere.

---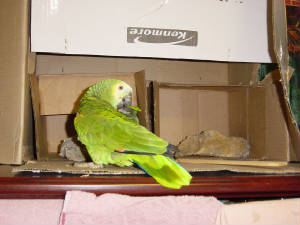 BOXES TO CHEW ON ATOP THE COMPUTER HUTCH
Joanie Doss is well-known for her knowledge about companion Amazon parrots, and has excellent advise on taking care of them. Visit her at
www.ParrotHouse.com
for some of her FAQs.




This is a personal web site, not a business. If you find any of the information here useful, please consider a donation. Help keep Ziggy the most spoiled parrot in North America! Thanks.

All content on this site, including pictures, is copyrighted,

©

2006 through 2016, by George A. Butel. All rights are reserved; text may be quoted freely with attribution, but critical commentary must give me the opportunity to reply.

Visit our hints for cancer patients Google page

, which tells you some of the things I learned during cancer treatment, including a few things that "they" forget to tell you, such as having to be a little bit "anal" about trying to prevent opportunistic infections. I never had any during my treatment, so I think my obsession paid off.

LEGAL STUFF

This site has tips and observations about dealing with parrots, and a few of my own views about human and parrot health concerns. I have a degree in biochemistry, so I am qualified to make

some

statements about foods, medicines and supplements, but

I am neither a veterinarian nor a physician, and I do not practice human or veterinary medicine

. You should certainly double-check any ideas you might get from me, or anything that you might

construe

as advice, by consulting with an appropriate legally licensed professional. All content on this site ©2006 through 2014 by George A. Butel. If you see any typos or any information that you feel is inaccurate or ambiguous, please contact me by clicking

here

.

I use some free Google stuff, including their search, on this site, and they now require that their privacy policy be listed: Google, as a third party vendor, uses cookies to serve ads on your site. Google's use of the DART cookie enables it to serve ads to your users based on their visit to your sites and other sites on the Internet. Users may opt out of the use of the DART cookie by visiting the Google ad and content network privacy policy.