ZIGGY ON THE CALCIUM PERCH HALF OF PERCH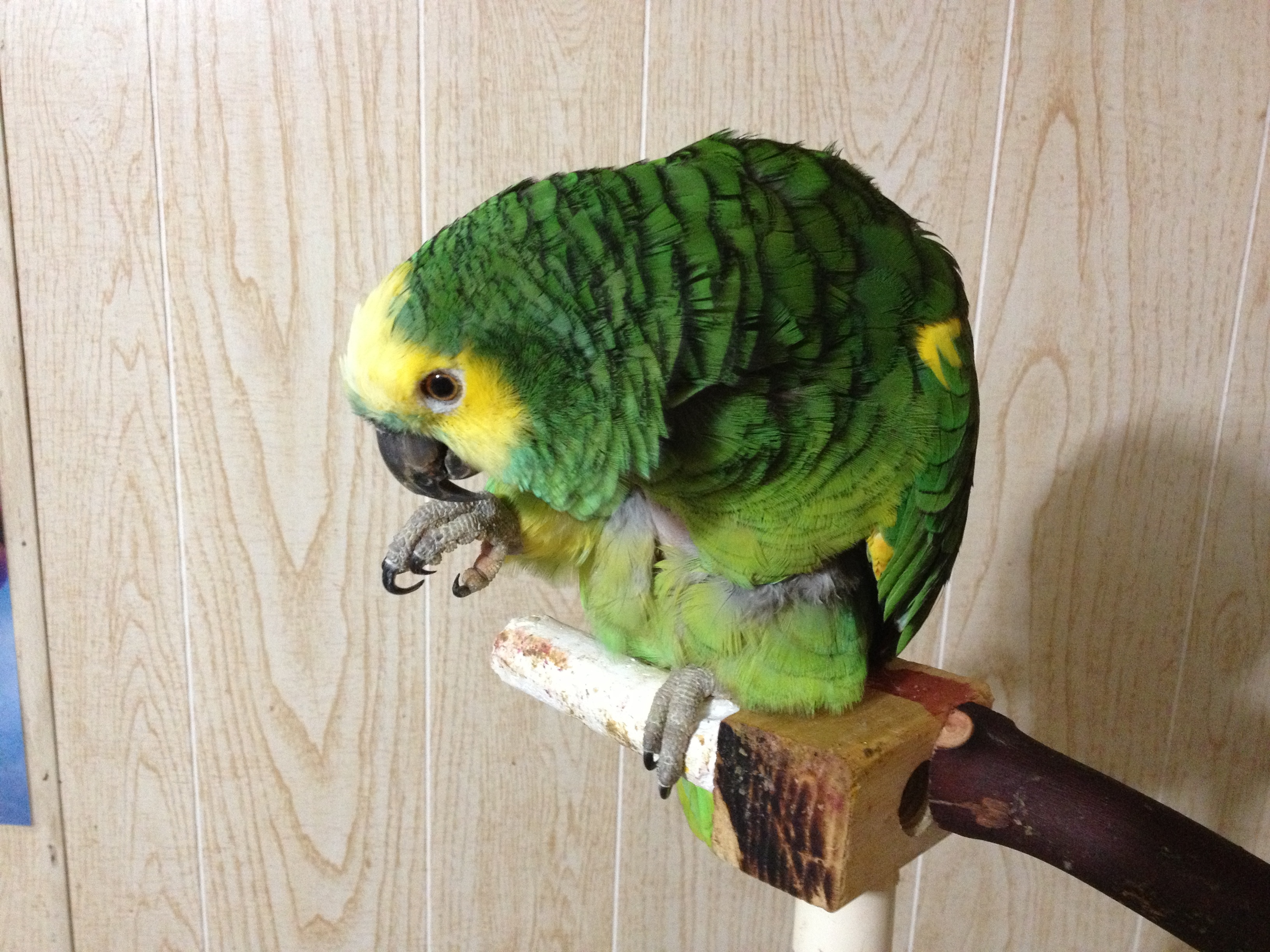 The "calcium" half was just scraped and trimmed, so it's short
If you're knowledgeable about home repair, you can't help but notice that the majority of bird gyms are constructed from plastic plumbing fixtures. You don't have to spend big money if you can do without the fancy look. Parrots don't care if their stuff doesn't match the décor. The most expensive things in these assemblies are the perches themselves.
Unlike a parrot gym, this stand does not have any supporting structure, so heavy metal pipe is needed to keep the center of gravity low so it does not get unbalanced during takeoffs and landings.
The perches shown are "safety pumice" perches screwed into a piece of hardwood (ash) that was originally intended as a furniture leg. Although we no longer use the "safety pumice" perches, the same method of assembly applies for whatever perch is chosen. Any safe hardwood should do, but ash is perfect because it is too hard for the bird to tear up, and seems to last forever. The ash is available as an unpainted, untreated furniture leg from Home Depot. It comes in a 28" version for about $10 (Foster Decorative Millwork 28 in. Parsons Ash Table Leg, Model # 2678 Internet # 202287719 Store SKU # 800774), as well as a 6" version for less than $4 [in 2013].
I've had to sand the ash down to round out the edges, since Ziggy sometimes uses it to "relieve" himself. The only hassle with the things is that, if you have to remove the perches regularly for cleaning or replacing, such as with calcium perches, the threads in the wood don't last forever. The cure is to redrill the hole bigger for a perch that comes with a larger diameter bolt, or else drill a hole adjacent to your original one.
The ash assembly is screwed onto a pipe using a plumbing fixture, and that pipe is attached to the wooden base with another fixture.
CLOSE-UP TO DEMONSTRATE CONSTRUCTION

WARNING: I've discontinued usage of these "safety" perches on veterinary advice.
When my mother passed Ziggy on to me, I did not know anything about parrots--I'd had parakeets and a screech owl decades ago--and I had no idea that concrete perches were harmful, so I used them at first. Ziggy had been tearing my arms up with his sharp, pointy nails--and I do mean sharp. My arms looked like battlefields. I don't understand how his are always so pointy while his new companion, Buddy, has clodhopper nails. I had to do something, and, although I'm aware that corporations and companies do not always speak gospel truth, it did not occur to me that those perches might be detrimental. A vet pointed out that pressure sores were being created by the concrete, so I stopped using it.
My mother would not let a vet trim Ziggy's beak or toenails after one in Missouri accidentally hurt his tongue while trimming his beak many years ago; Ziggy, having the memory of an elephant, would get extremely stressed when it came to visiting a vet, although he has calmed down in his old age. I'd hate to see him have a heart attack just because I had to take him to get his toenails trimmed, so I did not even consider the traditional vet trimming. He gets enough stuff to chew on that I don't have to worry about his beak. Buddy, having apparently had a hard life, has a tendency to freak out at the vet also, although he has improved some.
To replace the concrete perches yet still trim the nails, I looked around and found what seemed to be a perfect solution--the "safety pumice perch." The advertising for it is convincing, and the concept makes sense. The pumice layer is only on two sides of the perch instead of completely covering it, so it ought to be better. Ziggy's sores diminished some but did not disappear using the "safety" perches. I then began to notice the beginnings of pressure sores on Ziggy's new companion, Buddy.
The vet told me to get rid of these perches also, so I guess you can't believe the sales propaganda coming from the parrot industry about all their fancy perches. We're back to manzanita and similar things; I've also constructed a not-so-simple construct using a rope perch that fits on the same plumbing fixture.
BUDDY ON OUR MOST RECENT PERCH ASSEMBLY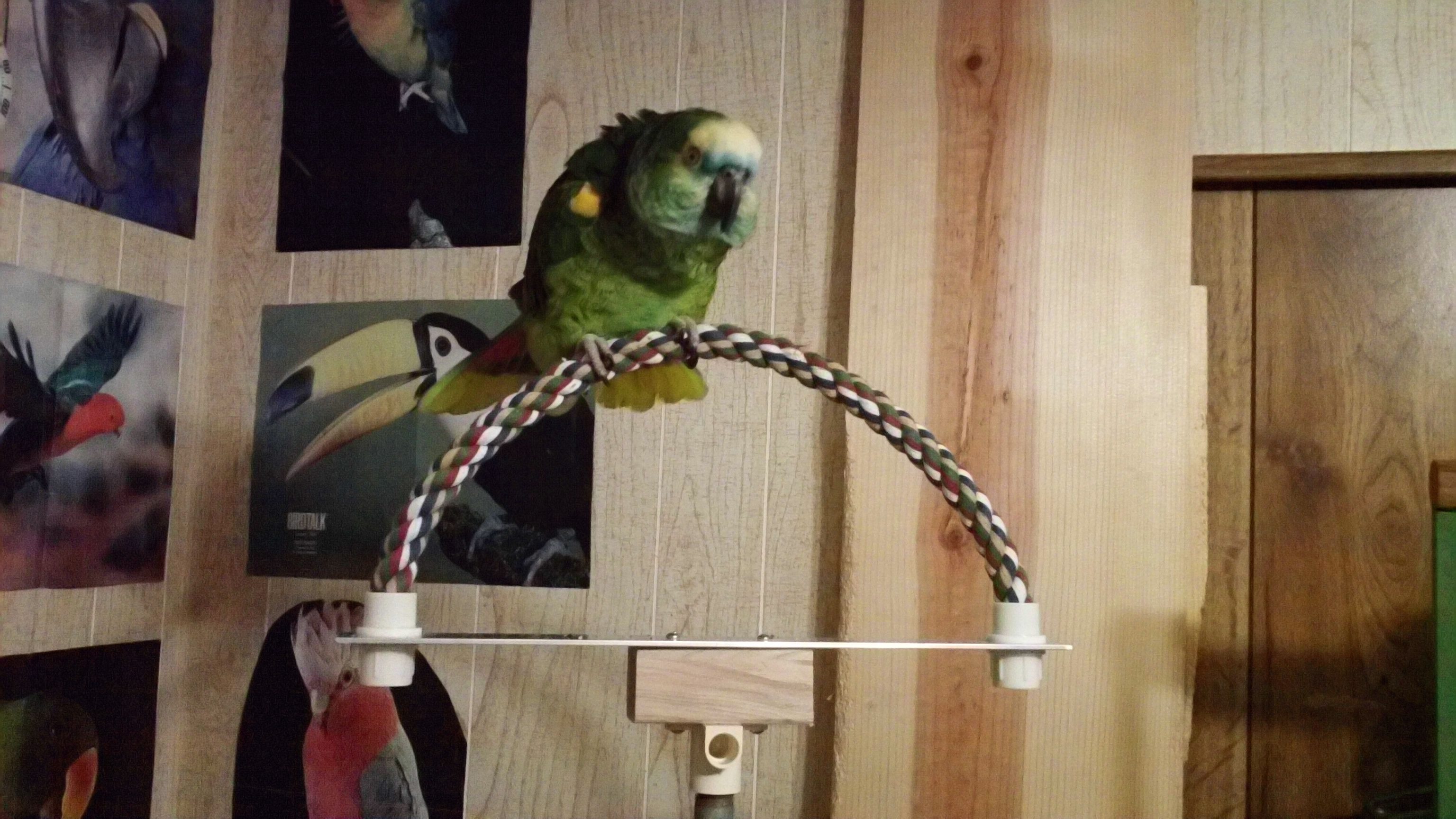 The vet recommended rope, so rope it is